SILENCER (MUFFLER) SEAMER – SRS320:SL-V2
END CAP CURLING MACHINE
For Clinching / Hemming / Seaming Tail plates & End Caps of automotive silencers & mufflers.
Semi-automatic operation.
PLC Controlled Panel.
Hydraulic Lifting System.
Ultra Heavy-duty construction.
Operation by Foot Switch or Dual Push Button.
Positive clamping system to ensure rigidity of muffler during seam operation.
Easy to operate, service and maintain.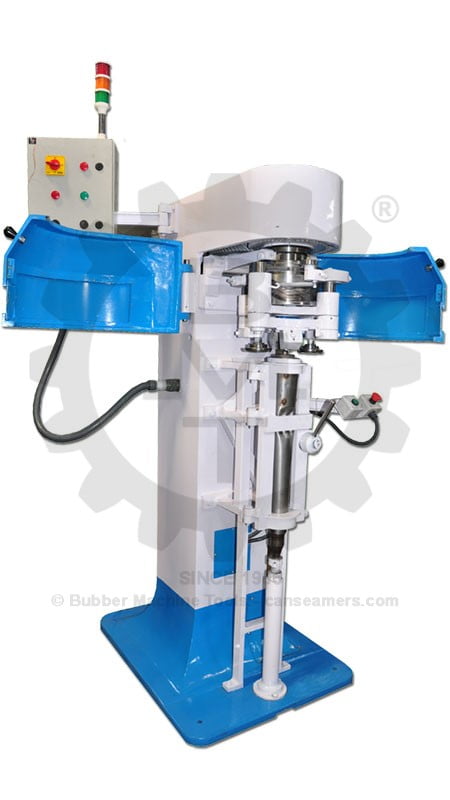 The silencer / muffler is placed on the support and is held vertically by means of a non-contact magnet. The dual push buttons are pressed to begin the operation. The silencer is pneumatically clamped and the seam operation is started automatically. After completion, the seaming head is stopped and the muffler is de-clamped for unloading.
The sequence is controlled by a simple PLC (Programmable Logic Controller).
This Seamer is used for inward seaming applications. For standard double seaming of mufflers, please see our Round Can Seamer page.

Video of Muffler Curling (Hemming) Machine for 2 Wheelers.
SPECIFICATIONS

Cycle Time

20 Seconds (Incl loading & unloading)

Min./Max. Can Dia.

60/180 mm (2.4/7.0 in.)

*

Max. Length

As per Customer Specifications

Max. Sheet Thickness

1 mm (0.04″)

*

Motor Power

Main: 3 HP / 5 HP (depending on sheet thickness)
Hydraulic Power Pack: 2HP

2.5 Bar

Net Weight

1500 Kgs. (3300 lbs.)

Gross Weight

1750 Kgs. (3850 lbs.)

Case Dimensions

1320 x 950 x Ht (as per muffler height).
(52 x 37 x ht.)
*Can be modified to suit customers requirements and applications.
"We are your one stop source for Seaming machines for Mufflers, Silencers and Exhaust Systems. We have End Cap Curling machines, End Cap Hemming machines and End Cap Seaming machines."