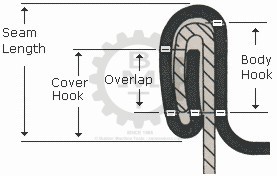 Can Seam Overlap Calculator
 

DIMENSION

 NOMINAL DIA.
mm (inch)
 OPERATING LIMIT
mm (inch)

Body Hook
Length

202
(52)

1.90

±

0.20
(0.075

± 0.008)

207.5 – 401
(60 – 99)

2.03 ± 0.20
(0.080 ± 0.008)

404 – 603
(105 – 153)

2.08 ± 0.25
(0.082 ± 0.10)

Cover Hook
Length

202 – 211
(52 – 65)

1.65 (0.065)
min.

300 – 401
(74 – 99)

1.78 (0.070)
min.

404 – 603
(105 – 153)

1.90 (0.075)
min.

202
(52)

0.89 (0.035)
min.

207.5 – 303
(60 – 78)

1.02 (0.040)
min.

307 – 404
(83 – 105)

1.14 (0.045)
min.

502 – 603
(127 – 153)

1.27 (0.050)
min.

202 – 401
(52 – 99)

404 -502
(105 – 127)
NOTES:
Operating Limit : Equipment used under normal circumstances, combined with cans and ends (lids) manufactured to industry standards, should give seams with measurements within these limits.
Measurements are for 3 piece standard sanitary cans, used as a reference for the canning industry.
The Can and End (Lid) dimensions must be as per standards to achieve the correct final Seam profile.
Seam Length greatly depends on the groove of the second operation roller and is directly proportional to the overlap, which should be approx. 60% (min.) of the total seam length.
The Calculator given above is for reference only. BMT™ does not guarantee the accuracy of the results and is not responsible for any errors/omissions therein.