Our Facilities
Total factory area (open+covered) of about 6,000 square meters.

Trained and Highly skilled workforce including production & design engineers, supervisors, machine fitters and operators.

CAD/CAM Design Systems.

CNC Vertical Machining Centers.

CNC Turning Centers.

Captive Sand Casting Foundry for graded castings, with a capacity of 16 tons per day.

Casting for Aluminum and Brass (Gun Metal) castings.

Conventional machine shop with Horizontal Boring Machines, Jig Borers, Lathes, Mills, Universal & Surface Grinders, Roll Profile Grinder, Gear Hobber and other Custom Machines.

Machines are regularly upgraded, maintained and calibrated.

Seam Profile Measuring Systems and Projectors.

Laboratory facilities for material and product testing such as hardness testers, etc.

Quality Control Management systems as specified under 

ISO 9001:2015 norms.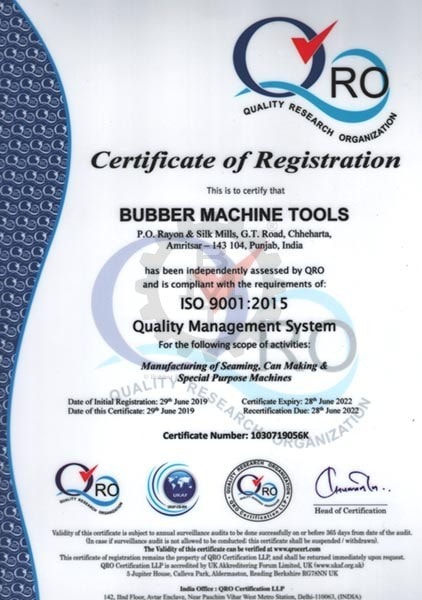 "At BMT we manufacture machines for Can Making and Seaming, specializing in Can Seamers, Drum Seamers, Filter Seaming Machines (Automotive, Hydraulic & Industrial), Muffler Seamers, Capacitor Seamers, PET Can Seamers and Seaming machines for Custom Applications"