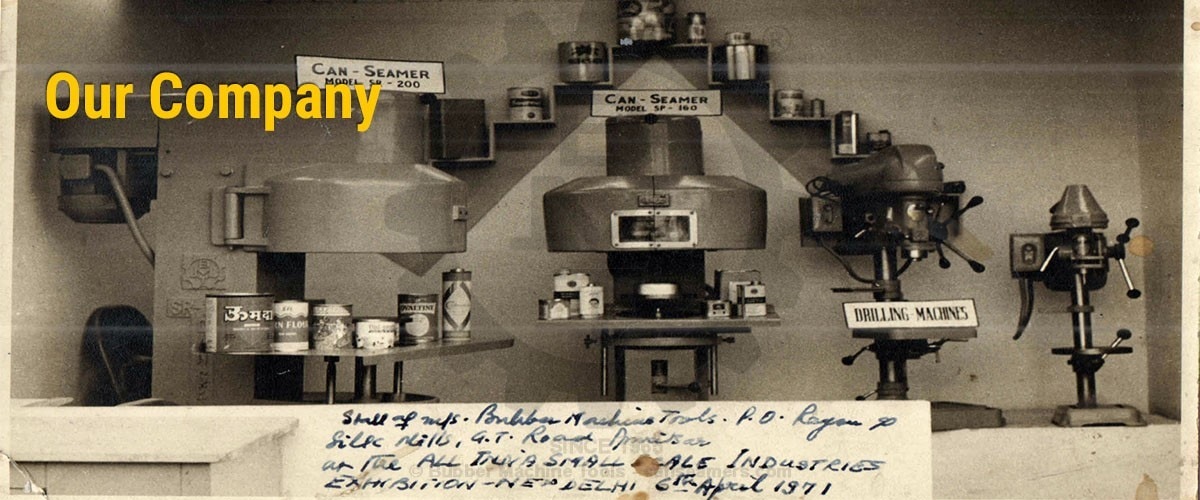 We Started with a Big Idea..
Mr J.S. Bubber, an entrepreneur and pioneer in the Can Making & Seaming Machine Industry, founded Bubber Machine Tools (BMT) on April 13, 1965. The company was headquartered in Mumbai, India with the factory at Amritsar, India which continues to be the manufacturing base.
The company has since grown to become the leader in its field. The manufacturing and testing facilities at BMT are constantly being upgraded to include new technologies and processes.
Bubber Machine Tools is today a leading supplier of Can Making & Seaming machines. Our products include Can Seamers, Drum Seamers, Filter Seamers, Capacitor Seamers, and special purpose Seaming Machines. In addition to these we also assist our customers in developing their components to be ready for seaming. We are a complete Seamer specialist and can help you with any seaming application. BMT can also help you evaluate your seaming requirements by doing sample runs at economical rates.
Our R&D team specializes in tailoring machines and even developing new machines to meet your can making or seaming requirements. We have a highly skilled and motivated workforce, who help to keep the company and its products at the forefront of Seaming Technology. We employ the highest standards of quality and safety.
BMT enjoys an excellent reputation with local as well as overseas customers. Our global exports now account for around 50% of our total sales.
Most Seaming Machines manufactured in India today are attempted copies of the  original "BMT Seamer" – "Bubber Seamer" and we take this as a homage to our work!
Worldwide Exports
We have supplied machines to customers in the following Countries
Australia

Bangladesh

Belgium

Brazil

Canada

China

Chile

Czech Republic

Egypt

France

Germany

Ghana

Greece

Guatemala
India

Indonesia

Iran

Ireland

Italy

Ivory Coast

Jamaica

Kenya

Korea

Kuwait

Libya

Malaysia

Mauritius

Mexico
Nepal

New Zealand

Nicaragua

Nigeria

Oman

Russia

Rwanda

Saudi Arabia

Singapore

Slovenia

Somalia

South Africa

Spain

Sri Lanka
Tanzania

Thailand

Tunisia

Turkey

U.A.E.

Uganda

United Kingdom

USA

Vietnam

Yemen

Zambia

Zanzibar
"At BMT we manufacture machines for Can Making and Seaming, specializing in Can Seamers, Drum Seamers, Filter Seaming Machines (Automotive, Hydraulic & Industrial), Muffler Seamers, Capacitor Seamers, PET Can Seamers and Seaming machines for Custom Applications"